Ethical Friday: € 10 - € 150 giftcards for you to give away
SHOP TODAY AND GET A GIFTCARD FOR YOUR LOVED ONES
Black Friday? As an ethical brand that just does not suit us. So we made it 'Ethical Friday' instead. Order today and get a free giftcard to give to your loved ones. To spread the ethical word and double the jewelry joy!

• Order € 50 and get € 10
• Order € 100 and get € 25
• Order € 200 and get € 50
• Order € 500 and get € 150

You'll receive your (unisex) jewelry giftcard automatically at home with your order. Beautifully printed and wrapped and ready to be put under the Christmas tree or to give away at any other occasion!
Ready to start shopping and giving? Shop our ethical women's jewelry & men's jewelry. No discount code or coupon needed.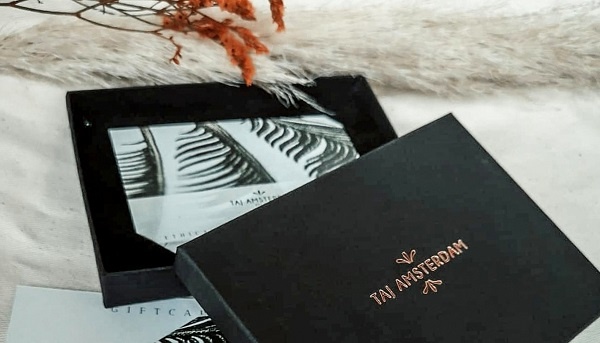 WHY ETHICAL FRIDAY?
As an ethical brand we highly value sustainability and fair trade. Black Friday is pretty much all about the opposite. Overconsumption, what Black Friday is famous for, comes with an ugly price tag. One that our planet – as well as lots of poorly treated crafts(wo)men – are paying for. We do not want to contribute to overconsumption and we do not want to cheer on the throwaway mentality that has taken over the First World.

However, to make ethical the new normal and to be able to compete with mainstream and fast fashion brands, sustainable brands have to survive. And to be able to survive and even thrive, we have to reach more people first. We have to spread the ethical word.

That is why last year, we started celebrating 'Ethical Friday': a day to spread the ethical word. To not claim a discount yourself, but to give it away, along with our message. Namely that there is a better and kinder way of producing. That consumption can be wonderful and beautiful – and harmless, or even beneficial, too.
GOOD TO KNOW
* Giftcards can be used online at taj.nl until 01-03-2022
* Giftcards are not redeemable for cash
* Our giftcards are excellent smile starters :-)


Enjoy the gift of giving! Shop women's | Shop men's