Taj was founded by the sisters Choanou Beau and Shardey Lynn Aalders, two dreamers with a gypsy soul and creative entrepreneurial spirit. Taj originated from their passion for development cooperation, sustainability and design. And from the dream of reminding like-minded souls of inspiring values and philosophies of life. They design their jewelry on Dutch ground, but exchange Amsterdam for Bali every now and then to run the local workshop, catch up with their crafty silversmiths and get inspired by all the beauty that Indonesia has to offer. 
Choanou-Beau Aalders (the brunette)
An idealist and a dreamer and mother of one beautiful son. An activist, a (preferably bare-foot) world wanderer with a gypsy soul that loves to sing her scrappy little heart out. A creative centipede, which manifests itself in endless nights of painting, photography, writing poetry and songs and of course, designing jewelry. Must admit to having nerdy humor, being impossibly clumsy and to be in the proud possession of heaps of temperament and grit.

As a little munchkin, a school visit to an African art and field museum in The Netherlands imbued me an awareness of the deep inequities between the global North and South. That day my life changed. Contributing to the worlds happiness and working with people in (post-) conflict zones & developing countries became my life's passion. And through my time spent in Africa and Asia, my education in International Business and Development Cooperation and by having an amazing sister/best-friend I managed to give shape to my dreams and passions, by means of Taj Amsterdam.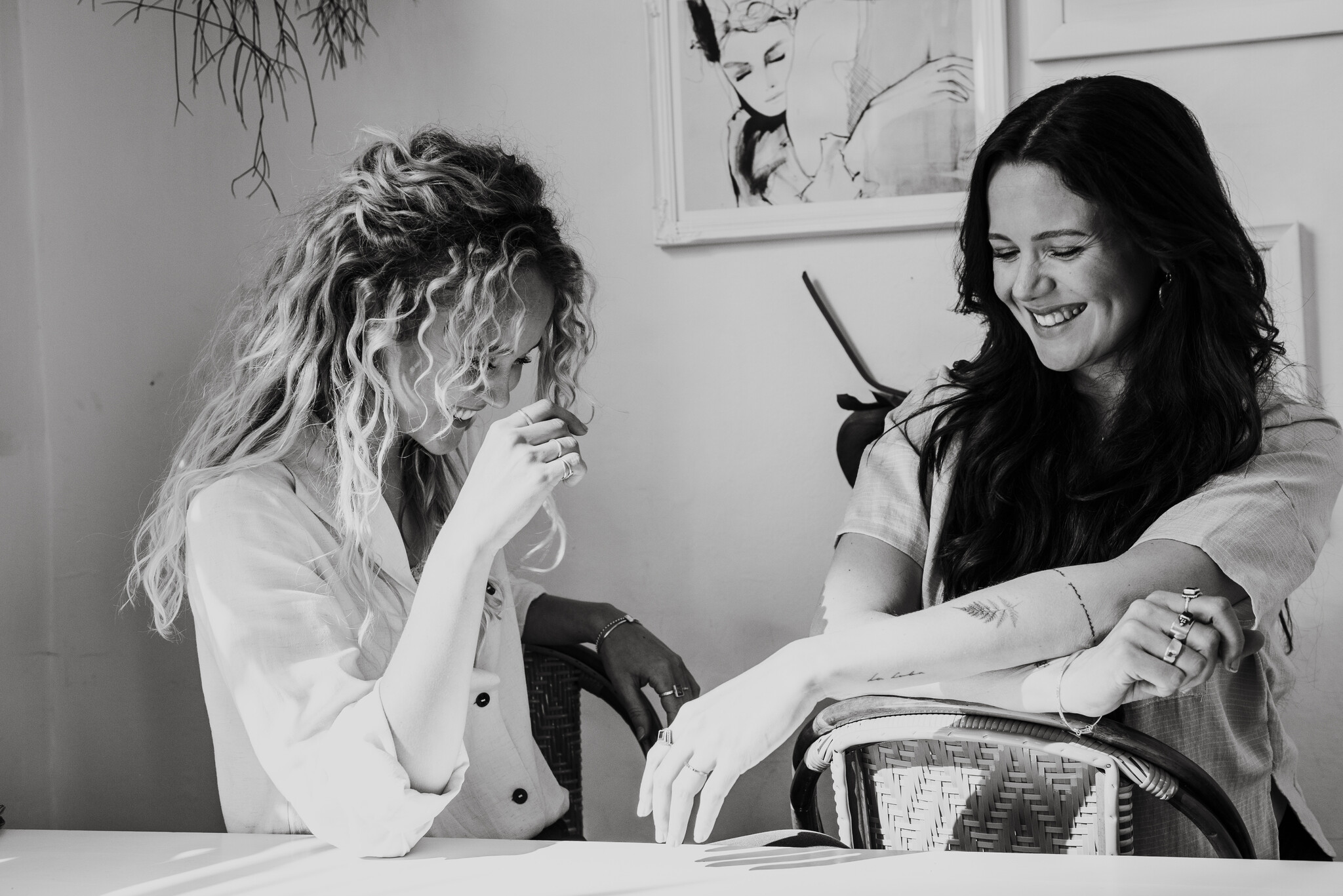 Shardey-Lynn Aalders (the blonde)
An experienced daydreamer, equality activist, impulsive traveler, passionate writer and planet loving vegan that just lives lives lives for her baby Taj. And poetry. And food. Especially Ethiopian. Oh my. 
From the day I sincerely pitied a flower that was standing deserted in the cold, I knew: I am soft-boiled. I was five at the time. And although my ability to empathize with flowers didn't survive puberty, my soft-boiled pith did. I want to contribute to a better world – no matter the size of that contribution – and create and share something truly beautiful. 

After having finished my Masters Text and Communication at the University of Amsterdam, my sister and I decided to take the plunge together by establishing Taj Amsterdam: the perfect melting pot of both our ambitions and talents. We get to improve the jewelry chain, change the lives of our Indonesian silversmiths, raise awareness about choosing a green lifestyle and be creative, design and travel while we're at it. How perfectly perfect. Our dream, no longer limited to fluttering loveliness in our heads, but molded into an inspiring startup with artisans we've come to care deeply about.

And that's all we'll be telling about ourselves for now because there is so much goodness to see on our website! But may you have any further questions, we're just an e-mail away: [email protected].