VEGAN HOTSPOTS: 10 VEGAN RESTAURANTS IN NIJMEGEN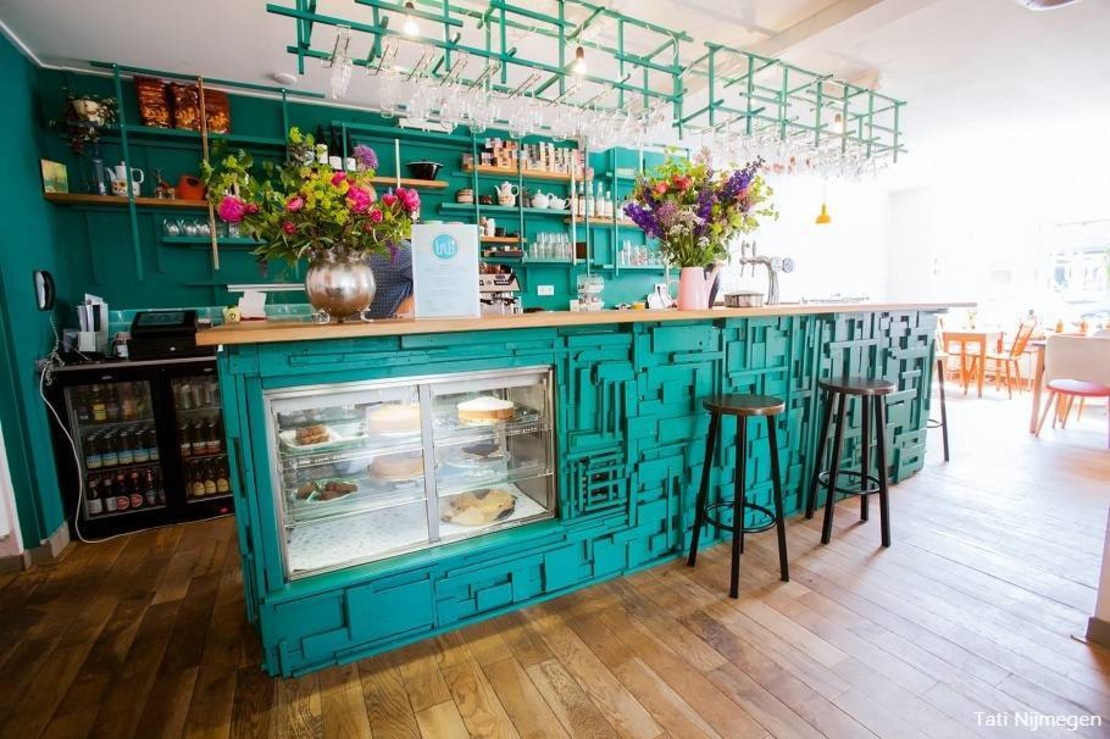 If you're a vegan and happen to be hungry in the Dutch city of Nijmegen, then you couldn't be in a better place – provided you know which restaurants you have to go to. That's why we've compiled a list of our top 10 hotspots, where you can go to eat vegan, in our beloved hometown of Nijmegen.
1. A BIT OF EVERYTHING AT TATI
Nothing but love for this place. Tati is situated in Nijmegen-Oost and has a great menu card next to its super cool, bright and retro interior. Whether someone's a vegan, a meat-lover or going sugar-free: everyone can find something they love here. The dishes are prepared with fresh organic seasonal greens and you are welcome to come enjoy their cuisine for breakfast, high tea, lunch or dinner.
But you should look at the menu for yourself, because we're just bursting with excitement typing about it! Here's a small glimpse of the lovely vegan options that await you at Tati: banana pancakes, beetroot burgers, a luxurious salad with bean mint-balls and pearl couscous, bread with aioli and to top it off, chocolate cake with raspberry. You can find Tati at Koolemans Beijnenstraat 80, Nijmegen (www.tati-nijmegen.nl.).
2. LAVISH DINING AT VOLDAAN
You won't find it anywhere on their website, but you can certainly find incredibly tasty vegan dishes here. Moreover; they take ALL of your dietary wishes in to consideration. You can order à la carte, but our personal favorite is asking for the all plant-based, sugar-free surprise menu (make sure to request beforehand!). You can choose out of three to seven courses and each dish is its own beautiful and flavorful creation.
The fresh-baked bread served with seasoned olive oil that you get in between the courses is already reason enough to go there. Another thing you might like: you can choose a special wine arrangement where they present you with careful selection of wine. Make sure you have a bit of stamina if you're going to be on your bike that day – it's happened more than once to us that we ended up leaving the restaurant happy and tipsy after five courses and thus five glasses of wine. Voldaan is situated at Van Het Sant-straat 97, Nijmegen (www.voldaan.eu.).
3. VEGAN PIZZA AT BELLA ITALIA
This vegan-friendly pizzeria not only serves regular pizzas, but also serves pizzas made of vegan pizza crust and plant-based cheese and mozzarella, giving it a base for endless possibilities and great variety. We only ate here once ourselves, having had the Bella Italia pizza with tomato sauce, vegan cheese, bell peppers, mushroom, artichoke, asparagus, onion and peas. Despite the fact that we're usually not fans of vegan cheese (we normally prefer tasty pizza's without fake cheese), we'd still want to eat here again. And you can also have to pizza to go. Bella Italia is located at St. Annastraat 45a, Nijmegen (www.bellaitalia-nijmegen.com.).
4. GREEN AND HEALTHY AT SALADEBAR MUNT
It may have taken a while, but Nijmegen finally has a decent salad bar. Here you can find salads, soups, juices and all kinds of yummy treats for coffee- and teatime. Everything is fresh and homemade with organic seasonal produce. You can create your own salad or you can order one from the menu, where you can also find other scrumptious things such as falafel and vegan monchou-cake. You can go in for a nice place to eat in this well-lit lunchroom or you can take your food to go. Saladebar Munt is can be found at Betouwstraat 28, Nijmegen (www.munt-saladebar.nl.).
5. COFFE AND A PICKNICKBASKET AT BAIRRO ALTO
This hip and trendy restaurant is located right behind the Grote Markt in the city center of Nijmegen and although it is not vegan per se, it is definitely vegan-friendly. On our last trip there we asked for a vegan lunch option and were delighted to get a sandwich with muhamarra (a Middle-Eastern spread that consist of bell peppers, walnuts and pomegranate) served with lots of veggies instead of the suggested cheese. Delicious! One thing that makes Bairro Alto unique is the fact that you can order a picnic basket to go, with whatever you like in it – including a picnic blanket. This restaurant is located at Kannenmarkt 6, Nijmegen and their website is (www.bairroalto.nl.).
6. GOING RAW AT CRUDO
A sustainable and 100% vegan eatery and store in the center of Nijmegen. Personally, we don't find the interior of Crudo to be unusually attractive or cozy, but the same cannot be said for their menu card. Crudo uses primarily organic and local products to make pure non-processed dishes. To top it off, the dishes are also gluten-, lactose- and sugar free. You can choose something like their chia nut bread for example, or choose between one of their numerous other options such as wraps, pizza, lemon-cheesecake and an array of colorful smoothies.
We've haven't eaten here ourselves yet (not counting the kale chips with vegan cheese at the cash register, which was divine), but with the amount of tasty options and merchandise in the store, it's nearly impossible to walk out of here empty handed. They've got all kinds of cookbooks, slow juicers, dehydrators and interesting superfoods. Feel like stopping by? Crudo is situated at Burchtstraat 126, Nijmegen (www.crudo.nl.).
7. VEGAN CAKE AT FIRST THINGS FIRST
This place is a specialty coffee bar located in industrial Honig terrain, made with coffee beans from the neighbors (Blommers Coffee Roasters) and with a varying assortment of vegan cakes. Lovely interior and great coffee, sweet and simple. First Things First is located at Honigcomplex Waalbandijk 14B, Nijmegen (www.firstthingsfirstnijmegen.nl).
8. VEGAN BURGER AT WALLY
If you're looking for a quality burger in Nijmegen, burger restaurant Wally is the place to be – even if you're vegan. Wally not only serves traditional meat burgers, but also a vegan burger made from black beans. Make sure to order it skinny (without bread) and without sauce, since both of these contain egg. It sounds depressing, but it's not, especially when you take in to consideration the fact that it also gets served with rosemary-fries, vegan coleslaw and ketchup if desired. Yum! Wally is situated at Hertogstraat 47, Nijmegen, (www.restaurantwally.nl.).
9. INDIAN CUISINE AT INDIAN WAY
At Indian Way they serve five delectable vegan dishes, all fresh and made from pure ingredients. A few examples of dishes are things like okra's with eggplant and garlic, ginger with fresh cilantro or highly spiced lentils in coconut milk. You can find this succulent and affordable restaurant at Sint Jorisstraat 30, Nijmegen (www.restaurantindianway.nl).
10. SEAWEEDBURGER AT BAGELS & BEANS
Always handy for a safe vegan lunch: the Dutch Weed Bagel at Bagels & Beans. In case you don't already know this burger: the Dutch Weed Burger is made out of pieces of soy flakes and sustainably grown Royal Kombu (sea weed) and is served with a creamy sauce, sea lettuce and summer seaweed. Lange Hezelstraat 44, (www.bagelsbeans.nl.).
11. BONUS: GREEN AND SUSTAINABLE SHOPPING IN NIJMEGEN?
If you're in town, feel free to stop by the store Make My Day. Here you'll find, amongst many other things, our eco-friendly jewelry made from recycled silver and gold :-) . Situated at Stikke Hezelstraat 65 (www.makemydaynijmegen.nl.).
Have you already visited some of these places or do you have more suggestions for us? Don't forget to leave a comment!
ALSO READ:


6 Weeks Sugar Free Challenge. >
Pad Thai With Peanut & Orange Sauce (Vegan). >
Banana Bread (Vegan, Sugar Free). >
Taj Amsterdam | Fair and sustainable handmade jewelry | Recycled silver and gold |